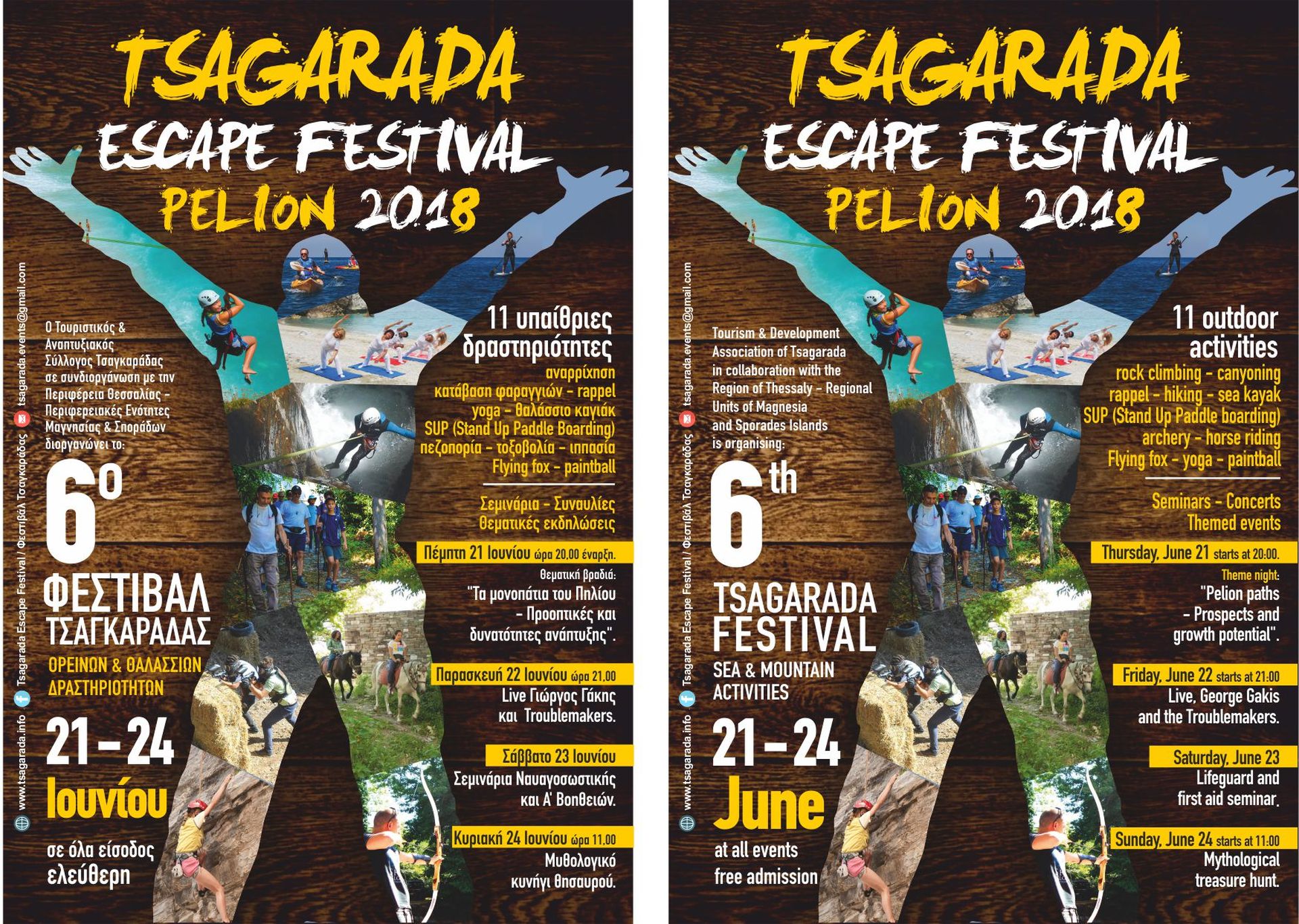 The Tourist & Development Association of Tsagarada, invites you to the "Tsagarada Escape Festival 2018" which takes place for the sixth consecutive year, from 21 to 24 June 2018, in co-organization with the Region of Thessaly -Regional Units of Magnesia & Sporades- and the support of the Municipality of Zagora / Mouresi.

The Festival includes a range of activities in nature such as: Climbing, Canyon Descent, Rappel, Hiking, Sea Canoeing, Stand Up Paddle Boarding, Archery, Riding, Aerial Route (Flying fox), Paintball and Yoga, all designed and executed by specialized outdoor offices of Pelion (Mountain Escapes, Hike Away, Shakayak, Volos Racoon City) but also bodies such as the Equestrian Physiological Club of Milies (Riding), the Volos Shooting Association (Archery) and the E.O.S. Anchialos (Climbing, Rappel).

There will also be:
– Thematic evening: "The paths of Pelion – Prospects and possibilities for development", with their speakers:

– Apostolis Tsimanakos (mountaineer, development expert in the study and opening of hiking / mountaineering routes, owner Exp.Trekking.)
Subject of recommendation: "The paths to Epirus & D. Macedonia today – prospects"

– Kyriakos Stathakis (mountaineer, Curator of press & public relations ESOS Volos, Pelion trail recorder)
Subject of suggestion: "The paths in Pelion today – perspectives"

– Thanasis Betos (Director in the Municipality of South Pelion, recognized path certifier, G. Secretary of the Equestrian Physiological Group of Miles)
Subject of the proposal: "Path certifications, European requirements and instructions, programs in progress in Pelion"

– Lifesaving Seminars by Life Guard Hellas and First Aid by EPIZO. The two organizations with their high expertise and experience cover the provision of security services by sharing responsibility at sea and mountain respectively.

– Mythological treasure hunt in the woods.

Finally on Friday, June 22nd, George Gakis and the Troublemakers will paint our evening with rock sounds.

As every year, this year the companies of the Tourist & Development Association of Tsagarada will provide preferential prices and offers on the days of the Festival while a minibus will run domestic routes connecting the districts of the village with the beach of Mylopotamos.

Participation in the activities within the Festival program is free of charge and you can book at the Secretariat of the event at 6975322472.

The professionals of Tsagarada, the Region of Thessaly and the Municipality of Zagora – Mouresi are waiting for you to enjoy this summer, an ideal destination for alternative tourism and enjoy special moments in eastern Pelion! A proposal to escape to a unique place that combines mountain and sea. A choice that will be unforgettable!

Visit our Facebook page where you can find information, audiovisual material from previous events and this year's full program, or contact [email protected] and 6975322472.

Lets Go! Lets Escape with Tsagarada Escape Festival!